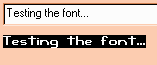 WDC Font Set #2 by Richard Kelly
1kb (Downloaded 528 times)

This is a font designed for use in Wolf projects and formatted for use in Adam Biser's WDC editor. It is designed to be used as a replacement for Font set #2 (which is bigger than the first set). Simply load the font file in WDC, and you're all set. A sample of the font is included in the preview. Please give credit to Richard Kelly if you use this font in your project.

| | |
| --- | --- |
| User rating: 3.0 (10 votes) | |
Categories: Fonts
Date added: 2005-12-28